布林线bb(55,2)中轨之上,做多
布林线bb(55,2)中轨之下,做空
买入,ha线翻阳,macd金叉
卖出,ha线翻阴,macd死叉, macd(8.3.5)
买卖确认:william%R(21)与ema(34)金叉买入,死叉卖出
止损以布林bb(55,2)中线为准,
目标,以布林线bb(55,2)外轨为第一目标,bb(55,3)为第二目标,ha线,发出相反信号,平仓。
11:15-1:15,是午休时间,不得交易
Golden Rules
? Never trade before 10am EST (see yellow Time Zone)
? Never trade at lunchtime between 11.45am – 1.00pm EST
? Never trade after 3.30pm EST
? Never trade on a day when Greenspan is talking, or any major news, without lots of
practice…till you learn how to trade that volatility.
? Forget all that you have learned from seminars and books – scrap all of your indicators
and do not look at 1 or 3 min charts.
? Never trade against the trend. "The trend's your friend", so only trade with it.
? Never trade in a choppy market - congestion.
? Never take a trade without confirming it with the $COMPX.
? Always place a stop loss order (Use a trailing stop loss).
? Never try to pick tops and bottoms – let the market tell you where it wants to go.
? Don't overtrade, 1–3 good trades per day is enough.
? Don't be greedy.
? Don't have any distractions, TV, telephone, people etc. while you are trading.
? Manage your money – take all profits out of your trading account at the end of each
month. This way your trading account does not grow too large and may just prevent you
from taking impulsive, foolish trades due to over- confidence.


GBP/JPY breakout trading system
===========
hi all…i've been working on a weekly breakout system for a while…just finished 1 year manual backtest so i can share it now…
basically we are taking last 2 candle's on 4 hour chart of the previous week as a breakout boundary..
entry at the break either way…
stop loss at the out of break out
target profit 2x stop loss…
when the price hits stop loss in a way our we increase target profit x3 stop loss in opposite direction…
no trailing stop…
trade ends with sl -tp or end of the week…
1 year result is monthly average 714 pips…
paco i think you are using wrong times my broker closes 5 pm on friday est so if you look on 1 hr chart its 10am till 5 but just take last 2 4 hour candles and check to see if data is about the same as other brokers. your findins are much different than mine 2200 pips for 2005 1300 pips for 2006 and 4100 pips for 2007 i did this manually so there are no errors
———————
Optimization from Bigricky
———————
HI guys,
Have been following this system with great interest. I am relatively new to forex and am looking for a mechanical type system. I have spent most of the weekend backtesting this system and although the results looked promising to start with when I applied the system and stepped through every trade it unfortunately doesn't look to good for the way I would trade it over the 2005 and 2006 years. Before I go on I just want to say I am new to this and there is always the possibility that my backtesting is flawed in some way.
I have attached my spreadsheet and MT4 template to show the setups for each trade.
I trialed 2 systems side by side. I have used harolds rules.
System 1 - Take profit at 1x channel.
Use the 2 bar, then back to 3 bar. If channel less than 100pips. Make a 100 pip channel.
Add 7 pips on to upper level of channel (allowance for spread).
Buy and sell stop orders placed 3 pips outside of upper and lower channel lines to allow for channel to be actually broken before entry.
Stop levels also set at 3 pips outside of channel again to allow for channel to actually be broken before being stopped out.
Take profit at 1x channel band.
Gaps - Ignore smaller gags - less than 20 pips.) For larger gaps If gap is filled within the channel trade as per normal. If it gaps outside of channel, don't take the trade. If price returns to channel and closes gap, trade as per normal. (I actually backtested ignoring gaps vs waiting for them to close and it didn't really make much difference to the bottom line)
If the first trade is successful then thats it for the week.
If the first trade fails, Take a trade in the opposite direction if triggered.
System 2 - Take profit at 2x channel.
Same as above but take profit at 2 x channel band.
Risk
Risk is 1% of account on each trade ( compounded).
I see the system profitability is sometimes measured in pips instead of return on account. I'm still trying to figure out how that accurately measures profitability. (I'm still a newbie, remember).
For me I will only risk a set % per trade. Whether the channel is 100 pips wide or 400 pips wide it will still be 1% risk. This means that some pips will be worth $1 (100pip chan) or 25 cents (400 pip chan). Again, if I am missing something here I would appreciate more experienced people pointing me in the right direction.
I have also subtracted 5% off of the winning trades. This is to allow for the 3 pip buffer on either side of the channel. (probably more like 3% but I like to allow for the worst case scenario)
RESULTS
System 1 - Take profit at 1x channel.
2005 - 7.95% return on account
2006 - 9.62% return on account
System 2 - Take profit at 2x channel.
2005 - 8.78% return on account
2006 - 2.04% return on account
2007 (2% risk per trade - compounded)
1x chan T/P (2nd trade 1x) 46.09%
2x chan T/P (2nd trade 2x) 65.21%
2x chan T/P (2nd trade 3x) 47.16%
++++++++++++++++++++++++++++++++++++++++++++++++++++++++++++++++++++++++
Use North Finance chart to gather data.Take the H-L of Friday's last two 4H bars.
If it equals < 100, go back another 4H bar.If it is still < 100, add to the H and subtract from the L an equal number of pips to equal a H-L range of 100.Set the Buy Stop to the adjusted H + 1 + spread.
Set the Sell stop to the adjusted L - 1.
The SL is the other side of the channel.
The TP is the amount of the SL.
If you are stopped out, set the TP of the new trade to 2x the original SL.
Anytime the TP is hit, cancel any existing order. You are through for the week.
Close any open position and cancel any existing order a few minutes before your broker closes on Friday.
+++++++++++++++++++++++++++++++++++++++++++++++++++++++++++++++++++++
Taking the last two 4H bars (Friday) from North Finance
H= 212.11
L= 210.96
Range = 115 pips.
That's >100. We don't have to go back another bar.
Add 1 pip + spread(9 pips) to the H for BUY STOP.
BUY STOP = 212.21
Subtract 1 pip from the L for SELL STOP.
SELL STOP = 210.95
BUY STOP - SELL STOP = 126 pips
BUY STOP + 126 = TP (buy) = 213.47
SELL STOP - 126 = TP (sell) = 209.69
So:
BUY STOP = 212.21
SL= 210.95
TP = 213.47
SELL STOP = 210.95
SL = 212.21
TP = 209.69
++++++++++++++++++++++++++++++++++++++++++++++++++++++++++++++++++++++++++++++++
I try to modify the original rule and get the very good result after backtesting from Jan year 2008.
I love this FF forum because all the people here willing to help each orther. of course i also learn alot from FF.
That why i want sharing my own rule with your guys
TF = 1H
find the last three bar hi/low (bid price) value when the market price closed on friday.
Buy entry signal = hi price + 50pip
Sell entry signal = low price - 50pip
Tp = 150pip
S/L = 100pip
Jan pip
2-4 150
7-11 100
14-18 150
21-25 50
28-1/2 -200
Feb
4-8 300
11-15 50
18-22 50
25-29 300
March
3-7 50
10-14 50
17-21 50
24-28 150
April
31/3-4 50
7-11 50
14-18 -200
21-25 50
28-2/5 50
May
5-9 150
12-16 150
19-23 -200
26-30 150
June
2-6 150
9-13 50
Jan 250pip
Feb 700pip
March 300pip
April 0pip
May 250pip
June 350pip (until week 20/6/2008)
Total is 1850pip
================================================
CURRENCY PAIR - GBP/JPY
4 CANDLES STRATEGY
- Draw horizontal lines on the highiest high and the lowest low of the first Four candles of the day.
- Trade the Valid Breakout of the eigther lines.
- Check Stochastic Slow on 4hours Time frame.
- Trade the direction of the 4hours stoch with higher quantity
- Trade direction against 4hours Stoch with lesser Quantity
- Target the first 50-100pips
- Your stop loss should be the other side of the tunnel
- If your stop loss is hit, set the pending order again.
- Close all pending orders by 5 hours to close of the day.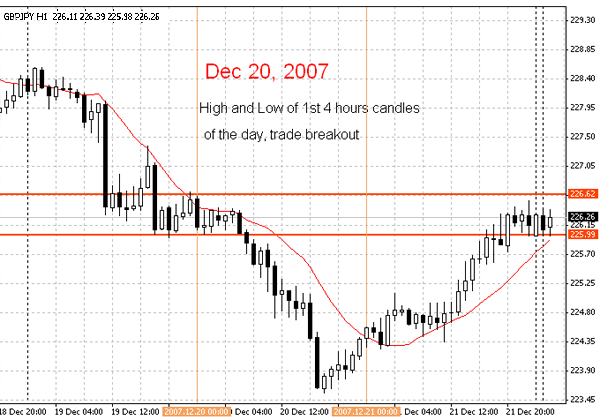 For the Four candles strategies:
- Use hourly time frame
- I am sure you know how to enter a valid breakout
- At a break of the horizontal line, move to lower time frame like 5min TF
- then let the whole body of the 5min candle be outside the line.
- for long, let the 5min candle close outside the upper horizontal line wait for a pullback such that the next 5min candle should make the upper horizontal line a support. That is a signal of a valid breakout.
- It's magic for GJ and other J pairs.
- Please back test to see the trick.
- A day where u have whipsaw, may be NO TRADE, but in the average u will have winnings
====================================================================================
Morning Break Out:
1 hour GBPJPY graphs
Using GMT, observe the rage between 1:00 and 09:00 (Note: using eagle-breakout indicator, I've put between 0:00 and 8:59; for some reason it have ignored the 0:00 candle - but it works fine).
Put a buy order 2 or 3 (+spread) pips above the top of this rage. T/P objective is half of the rage or at least 20 pips. Put the stop loss at the middle of the range or at least 20 pips.
Put a buy order 2 or 3 pips bellow the bottom of this rage. T/P objective is half of the rage or at least 20 pips. Put the stop loss at the middle of the range or at least 20 pips.
If a trade fails (stop loss), re-enter. Even after a T/P, if the price came in to the range, you can retry another time.
If a trade last for more than one day, and is moving in the right direction, it is ok to let it go - just move up the stop loss, above or at the break-even.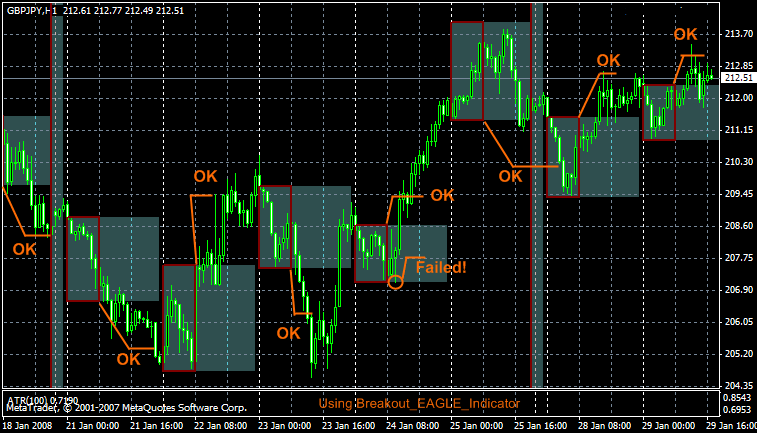 =====================================================================================
System: Find the maximum and the minimum between 18:00GTM and 2:00GTM and then put a
字体 - 大 中 小
I've been calculating the A & C values like this: (10 day ATR + 30 day ATR)/2. Add this number to the opening range figures on each side for your values. Is this the way he calculates…not necessarily sure…but it works for me.
Example: For the YM I use a 15 minute opening range
Opening range=10450-10470
10 day ATR=26
30 day ATR=30
A & C value would =28 from the info above
A Up=10498
A Down=10422
Now for some futures he uses different values for A and C. I don't incorporate this so I just use them as he does with stocks which would be the same values for both A and C.
What's the downside of using his methodology. As stated above, trading ranges can eat u up. Wide stops are required and this is the biggest problem with the method imo. If you incorporate pivot ranges sometimes they can help you to narrow the stop a bit.
A= 10% of ATR
C= 1.5 * A
===================================================================
I've been getting a lot of email inquiries about Mark Fisher's ACD method "A" up levels and pivot range and since today was a perfect example of how to use it to identify trending moves I thought I would review today's action through the lens of that method.
In the chart above I have made several notations that should be the price action and signs that you would take note of to identify and successfully trade for what you expect to be a Trend Day up.
First I should mention that a Trend Day up today was anything but guaranteed and certainly far from likely. It is only after you begin to see some confirmation that you can begin to assume more and early in the session today there wasn't much confirmation.
The first thing we know is what today's pivot range is since this is calculated using prior day's prices. To download the TradeStation code for the pivot range see the Download Library. Now, notice that the pivot range is extremely narrow, according to The Logical Trader we know that narrow pivot ranges are likely to result in wider range days. This is really the first evidence we have that upside action could be significant. We should also note that prices opened within the pivot range and then quickly moved above the pivot range high and never tested that level as support, price was quickly moving away from the day's value area and doing so with some authority.
After the first 20 minutes I had the price levels to set the opening range high and low, from there I take 20% of the 20 day Average True Range and add/subtract from the opening range high and low to set the ACD "A" values. Keep in mind that the "A" levels should define the bulk of the day's price action and only trending moves that are supported by large traders should be able to significantly trade above the "A" up.
My first buy came on the minor pullback from the opening range, I have found that price often moves opposite to the move that first formed the opening range high/low for a brief period. I used that brief pullback to buy SSO, the leveraged S&P 500 ETF, on the idea that prices would likely attempt a test of the "A" up level or at the very least an opening range upside breakout. If price couldn't hold an opening range breakout I would just exit the trade.
Once prices did record an opening range upside breakout then I assumed that the strength in financials and the continued gains in the Nasdaq and Global Equities would be enough to get a test of the "A" up.
The "A" levels are often the high or low of the day and once you get a breakout move the test of that level can come quickly.
I then sold my SSO into that "A" up test because the other critical evidence to support a Trend Day up, the TICK, was not confirming enough.
From there on you can see my day trade buys with the green arrows and sells with the red arrows, some partial buys and sells, others the entire position.
The key thing here is to utilize these methods to frame the day's action and then setup your trading bias to be in line with that. In this case you wouldn't want to do much selling today and the "A" up would indicate a buy the pullback bias with the "A" up and opening range high as support.
So that's what I tried to do, remain long and look to buy pullbacks, but most of all, the "A" up combined with Trend Day up elements told be to hold my longs and enjoy what was likely to be a good day. While I didn't do a great job of that by selling my initial SSO trade I just focused on making the right trades the rest of the day.
I finished the day up about 1.2% and I can owe that to responding to the confirmed "A" up and key clues from the price action that kept me from taking too much in the way of profits but still focused on buying intraday pullbacks.
Utilizing the "A" down level and the lack of confirmed "A" downs also helped keep me in winning positions and is a large part of the reason for my +8.5% account gain since Tuesday, September the 18th.
The applications of this go far beyond day trading and Trend Days because as you can see the "A" levels give you prices to key off of to confirm an upside trend and that can be very helpful when looking to establish swing trades or position trades based on oversold signals.
Hope this helps you and I hope this answers some of the questions I have gotten, if you have any more questions do ask.